An air of sadness once again descended on the Cloone community with the news of the death of John Gormley in Luton at the weekend. John was a passionate Gaa person and served the organization in any capacities including the highest rank, the position of Uachtaráin of Great Brittan.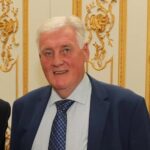 John started his playing career at Cloone National School and soon progressed to the ranks of the Cloone under 14's in the early seventies, where he established himself as an accomplished full back noted for his extremely long kick out. John continued through the underage ranks with Cloone, but at a young age he headed to Luton where he was to settle down and raise his family and spend the rest of his life there. In Luton John joined the ranks of the St Dymphna's GAA Club and was soon an established member of their first team and again making the position of full back his own. John was a commending figure on the edge of the square, and not too many forwards relished the thoughts of trying to get the better of him.
John lived and breathed GAA, giving a lifetime of service to the sport, including 49 years to St Dymphna's GFC. Following on from his playing days John moved to the administration side of things and went on to hold every role he possibly could both on the Club Committee for St Dymphna's as well as the Hertfordshire County Board. However, John wasn't content to stop there, his passion and love for the game also saw him deeply involved with GAA at Provincial level and indeed right across Britain. In 2006 he achieved his greatest honour when he was elected President of the Provincial Council of Britain a post he held for three years until 2009. John was also a current Club Committee member and a Provincial Council delegate to the Central Council of the GAA. He took great pride in joining his next door neighbor from the Village of Cloone, Leitrim delegate Enda Tiernan as a member of the Gaa's governing body. He was a true ambassador for the GAA and has left a great legacy within the St Dymphna's Gaa Club and the greater GAA Community.
John was also Chair of the ABC – All Britain Competition Committee, whose events took place in Greenford and Ruislip last weekend, something which John was a big driving force behind. The ABC as it was known, was featured on RTE news on Friday evening last but unfortunately John was unable to be present. Nothing would have made John happier to be at the ABC's this weekend driving around on his golf buggy overseeing the event and watching over 3,500 children, including his own grandchildren ,playing Gaelic football. However, his legacy and love for the game will live on through the ABCs for many years to come!
While John was deeply immersed in GAA activities in Luton and Great Brittan, his native Cloone and Leitrim were very close to his heart, and with his wife Bernadette, he would have made his business to support the green and gold at every opportunity, even travelling to support the team in Gaelic Park New York. There again, Bernadette and himself would always travel home to his native Cloone every summer and a visit to the Cloone Agricultural show on the August bank holiday weekend would be the highlight of his visit
At John's instigation, the Cloone team were invited as guests of St Dymphna's Gaa club for a social visit in 1997 and were presented with a St Dymphna's Jersey, to honour the fact that their most famous member was a Cloone native, and the Jersey is proudly displayed in the Cloone Gaa Club room. His infectious laugh and great wit will be sadly missed, and all in Cloone Gaa and indeed the wider Cloone community, would like to covey to John's wife, Bernadette, daughters Louise and Katherine, son Kieran, and grandchildren, his family and friends, our condolences on your great loss
Ar dheis Dé go raibh a anam dílis.
Pictured at GAA Congress 2014 Gerry McGovern, John Gormley and Enda Tiernan.
By Cloone GAA
Tue 11th Jul